Partnership extends range of sustainable RFID tags
| 07-11-2021 |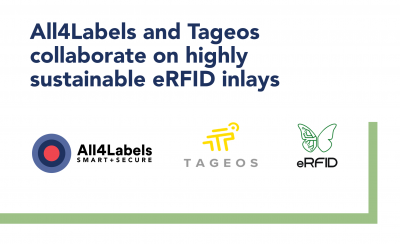 Tageos and label company All4Labels, both long time members of AIPIA, have announced their cooperation in the field of sustainable RFID inlays and tags. With a common goal to drive and foster sustainable RFID products across all industries, the French-based RFID specialist will now offer the new Zero Max RFID inlays powered by All4Labels´ eRFID antennas to the market.
This further complements Tageos' existing Zero portfolio of sustainable, high-performance RFID inlays.The underlying 4E technology had been developed by Walki Group in Jakobstad, Finland.
Paper-based RFID inlays manufactured using antennas made by precision laser cutting 4E technology are quite sustainable being 100% plastic free, 100% heavy-metal free and 100% conflict-material free, they say. They are also highly efficient and offer up to 70% less waste and up to 90% smaller carbon footprint compared to PET material use, the companies claim.
A pure aluminium layer on the paper substrate enables enhanced RF performance compared to printed antenna technology. The use of precision laser cutting in combination with paper substrate fully eliminates any chemical antenna etching and use of PET substrate from the manufacturing process. This circular economy approach is part of the sustainability vision both partners share.
The first result of the collaboration is Tageos' Zero Max, powered by eRFID, version of its EOS-300 U9 compact inlay for retail applications and logistics packaging. Introduced recently, this inlay has successfully passed several ARC specifications and is now available in bulk quantities. Additional Zero Max inlays are on the verge of being launched.
Thanks to the collaboration the patented technology is ready to penetrate the RFID market on a larger scale. To achieve this, All4Labels will supply large manufacturing capacities for paper-based antennas to Tageos in future. So Tageos will be able to strengthen its existing Zero product family, which now includes Zero Base, Zero Plus and Zero Max and further expand its position as a sustainable RFID inlay supplier.
SEE DIGITALIZATION IN PACKAGING CONGRESS AGENDA HERE
"By cooperating with All4Labels and securing a significant portion of its production capacity for precision-laser-cut paper-based antennas, we will be able to expand the highly sustainable Zero product portfolio to enable a true market breakthrough in sustainable RFID inlays," said Nicolas Jacquemin, VP of sales at Tageos.
Nicolas Guenther, MD at All4Labels Smart+Secure, added, "Sustainability and providing smart solutions is the core of the company's business. Innovations like eRFID antenna, as well as new IoT solutions, do not originate from the ivory towers of a company, but from a clear focus on customer demand."
« News feed