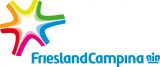 FrieslandCampina
We provide people around the world with all the good things milk has to offer, with products that play an important role in people's nutrition and well-being. Together with our member dairy farmers, we are milk experts who are continually expanding our knowledge of the applications of milk.
Our product range: baby and infant food, milk-based drinks, cheese, milk, yoghurts, desserts, butter, cream, milk powder, dairy-based ingredients and fruit-based drinks.
We carry out our commercial activities via four market-oriented business groups: Consumer Products Europe, Consumer Products International, Cheese & Butter and Ingredients. In the field of consumer products we're active in many European countries, in Asia and in Africa. Sales to industrial customers take place worldwide.
Back to list
Visit website