PACCOR gives plastic packaging a digital identity
| 11-11-2020 |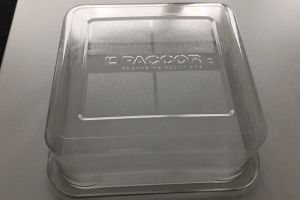 As part of an environmentally friendly recycling system, PACCOR, an international packaging supplier with manufacturing sites in 16 countries, has introduced plastic packaging solutions with digital identity provided by AIPIA member Digimarc. This enables the correct identification of each package throughout the value chain and is big step into the recycling economy as, for the first time, it is possible to differentiate between food and non-food packaging to achieve high-quality sorting.
"As one of the leading manufacturers of packaging, we want to close the material loop by enabling full recyclability of our products. Therefore we have set ourselves the goal of minimizing packaging waste, conserving resources and saving energy wherever possible," says Andreas Schuette, Chief Executive Officer at PACCOR.
For PACCOR today's recycling rate is too low. Fifty percent of this plastic ends up in the residual waste by mistake, where it burned directly, unsorted. So it has introduced a solution which allows customers to use the Digimarc barcode directly on the surface of rigid plastic packaging without any extra marking like labels or direct print. This code is able to provide consumers and disposal companies with information about the respective packaging.
"For the first time, waste with digital identity enables us to sort packaging efficiently. For example, the scanner in the sorting system recognizes whether a container was used for food or non-food products, sorts all coloured packaging – including black – or receives information on whether the reusable material can be recycled or composted. Multi-layer packaging can also be professionally separated and recycled," explains Nicolas Lorenz, chief commercial officer at PACCOR.
The Digimarc Platform is a principal technology of the cross-value chain initiative 'HolyGrail 2.0' (widely reported by AIPIA) to improve sortation and higher-quality recycling rates for packaging in the European Union (EU).
"We are excited to work closely with PACCOR to deliver a technical solution to industry that will increase the quality and quantity of recyclate that would otherwise go to landfill or incineration," states Larry Logan, chief evangelist at Digimarc.
PACCOR is the first packaging manufacturer who managed to apply the Digimarc barcode to commercially available rigid plastic packaging surfaces.
« News feed