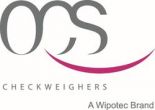 OCS Checkweighers, inc.
Dynamic Inline Weighing Technology for the Food, Pharma, and Logistics Industries, Quality and Inspection Systems, and Complete Serialization & Aggregation Solutions (Track & Trace) for Pharmaceutical Manufacturing.
OCS Checkweighers is an internationally recognized partner for efficient checkweighers, catchweighers, in-motion scales as well as X-ray scanners. The name is synonymous with high-quality, ultra fast solutions and outstanding service. Our products stand for 100% in-line control in your production. Regardless of which branch you belong to.
Back to list
Visit website