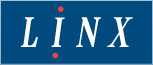 Linx Printing Technologies
Industrial marking solutions from Linx Printing Technologies Ltd (Linx), part of the Danaher Group's Product Identification platform, are renowned globally. Manufacturing industries across the world benefit from our expertise in batch and date coding of products and packaging .
Linx continuous inkjet printers, laser coders, impulse jet printers and thermal transfer overprinters are used on production lines in a wide range of manufacturing sectors. They include the food, beverage, pharmaceutical, cosmetics, automotive and electronic industries, where product identification codes, batch numbers, use by dates and barcodes are needed.
Back to list
Visit website