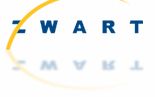 Drukkerij Zwart BV
Zwart is a master of flexible packaging. And that takes effort. Experience, skill, efficiency and guaranteed quality are terms that accurately reflect our way of working. But, above all, we are boundlessly flexible.
Our company was founded many decades ago in the Amersfoort house in which Mondrian was born. Today, we operate from a modern and technically well-equipped business unit, with clients including a number of major players in the food industry.
Zwart lives at the cutting edge. We aim to excel in what we are good at in order to cement our position as master of our trade.
Back to list
Visit website