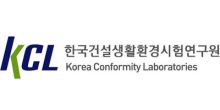 Korea Conformity Laboratories
Established through the merger of Korea Institute of Construction Materials (KICM) and Korea Environment & Merchandise Testing Institute (KEMTI) on July 2010 and currently affiliated with Korean Agency for Technology of the Ministry of Trade, Industry and Energy, Korea Conformity Laboratories (KCL) upholds the highest standards in testing and certification industries in Korea.
Based on the extensive experience and technological expertise we accumulated over the past half-century, KCL is committed to testing, inspection and certification of construction materials, consumer products, energy and environmental products, setting new standards in consumer safety and helping companies gain competitive advantages in the global market.
Lately, we have been focusing on building testing and certification infrastructure for R&D efforts in the renewable energy, bio and medical sectors as well as in safety as we expedite global collaboration with the Middle East, China and Mongolia to help companies expand their presence in the global market.
At KCL, we will continue to advance our expertise to offer one-stop total service from simple testing and analysis to cutting-edge technologies to provide the highest level of customer satisfaction.
Back to list
Visit website