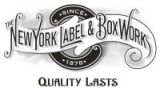 New York Label & Box Works
Since 1878, New York Label & Box Works™ has provided packaging services for companies in the metropolitan area and beyond. Over the years, our company has evolved to meet the demands of an ever more sophisticated marketplace, such as the Cosmetic, Health, Food, Beverage, Pharmaceutical, Vitamin and Nutraceutical industries. Today, NY Label & Box Works with our two ideal locations – continues to provide the premier products and services that our customers have always expected.
Do you require packaging that's "a little out of the ordinary?" Maybe you need a custom substrate, coating or adhesive...or a special construction with a perforation and a unique fold. Or you're simply in the initial planning stage and your creative team wants to explore different possibilities to give your brand a competitive edge and more "shelf impact."
Back to list
Visit website