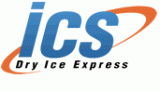 ICS Dry Ice Packers
ICS (Industrial Cryogenic Services) BV and ICS Dry-Ice Express BV were founded in 1995. Since the end of 2005 we are located at the Verzetstraat 10 in Kaatsheuvel, the Netherlands.

ICS Dry-Ice Express BV's core business: Shipping of refrigerated or frozen samples (food samples/ diagnostic specimen/ pharmaceutical dangerous goods) nationally and internationally.

How do we go about this? Delivery vans with various insulating packaging and refrigerants like dry ice, liquid nitrogen, cold packs and pmc's drive through the whole of the Netherlands and other countries on a daily basis. At request of our customers quality goods and samples are collected at required locations. Goods are packaged directly and equipped with the right refrigerant. Goods are delivered the following day at the requested address.

ICS Dry Ice Express replaces three suppliers, minimum. We save you a lot of time and therefore money! We deliver your goods on a next day basis for 95% of the above mentioned destinations.
Back to list
Visit website