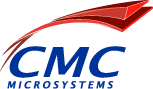 CMC Microsystems
With a 25-year history, CMC Microsystems enables and supports the creation and application of micro- and nano-system knowledge by providing a national infrastructure for excellence in research and a path to commercialization of related devices, components and systems.
What we do:
Leading-Edge Tools, Technologies & Solutions:
Access products and services for designing, prototyping and testing your ideas and leverage available support to create a fully working proof-of-concept prototype.
Opportunities for Networking, Partnerships & Collaborations:
Interact with experts from across Canada and around the world. Jump-start projects, accelerate discoveries and help set technical direction.
Support to Translate Research to Commercial Success:
Access tools, technologies and expertise for commercial projects. Take your research from conception to commercialization. Train on the tools and infrastructure relevant to Canadian industry.
Back to list
Visit website