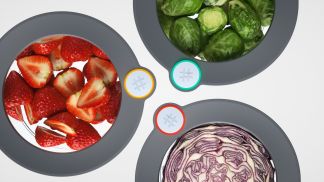 NEWS: New fridge container tag signals freshness
06-11-2018
A Chicago based tech startup, Ovie, is launching a series of products on Kickstarter to help people stop wasting food and money by keeping track of their food at home before it spoils. The Ovie Smarterware system turns an ordinary fridge into a smart fridge, but without the smart fridge price tag, says the company.
Ty Thompson, co-founder and CEO of Ovie, explained, "People don't want to waste all of this food – it just happens.. We end up throwing away a large amount of food simply because we forget about it. Ovie wanted to create a product that would be simple to use and bring a more mindful approach to food storage."
The Smarterware product line consists of Smart Tags, 6-cup containers, clips, and universal connectors that can attach to any container or bottlein a fridge. The tags fit securely into the Smarterware container, clip, and universal connector. Each tag features a light ring to giveinstant visual cues, showing the freshness of every tagged item in the fridge. The light starts off on green, meaning it's safe to eat, then turns yellow to show it should be eaten soon and then ultimately to red when it's time to throw it out.
"We designed our smart tags to not only track food for notification purposes, but also to provide visual indicators to anyone in the household," noted Dave Joseph, co-founder and head of product design. "The colour changing light ring was key in making it extremely easy for every member of the household to see what food is important to eat now."
The company goes a step further and integrates with Alexa and other smart home hubs, recipe apps, and grocery apps. It will keep track of everything tagged and will send reminders to a smartphone when food is about to go bad. Also it can provide tips on how to eat it, recipe ideas which use other tagged items in the fridge and even connect with grocery apps to allow users to order missing ingredients to complete a recipe.
Each month It willsend a personalized recap to users detailing how they have been using Ovie to help improve their food tracking and consumption. The recaps will celebrate wins, offer tips based on personal consumption trends, and share how, together with the rest of the Ovie network, they're reducing food waste.
Ovie plans to begin shipping Smarterware in early 2019. Retail sets will start at $59.99.
More about this at AIPIA World Congress REGISTER!
News overview