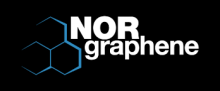 NorGraphene Technologies Canada
Canada NorGraphene Technologies Canada Ltd. (NTC/NorGraphene) is a Canadian high-tech enterprise specializing in large-scale commercial production of graphene, research and development of graphene application technologies, and integration of related technical services. NorGraphen was founded in 2015 by Dr. Charles Feng and Mr. Rocky Kuang (Before 2015 it was CStar Canada originally).

NorGraphen focuses on researching, developing and producing high-performance, high-quality, and low-cost graphene powders, pastes and films. At the beginning of 2015, under the leadership of Dr. Charles Feng, our technical team had successfully developed a method for the industrial preparation of large-size graphene, and had obtained a patent for this technology.

At present, NorGraphene has cooperated with National Research Council Canada (NRCC) and the National Institute of Scientific Research Canada (INRS) to develop eight application technologies of graphene in four fields, initially forming four transformable industrial production technologies and possessing more than 10 independent intellectual property rights. And we are going to apply patents for the technologies.

Now, NorGraphene mainly produces laboratory-level high-performance, high-quality, low-cost graphene powders and dispersions. The specific surface area of the powder product is greater than 700m2/g, the purity is as high as 99.9%, the average thickness is 0.8-1.2nm, the single layer rate is greater than 95%, the electrical conductivity is greater than 106 S/m, and the corresponding electrical resistivity is less than 7.6*10-7 . The experimental production line has been built, and the annual production of laboratory-level graphene powder can reach more than 1,500 kg per year.
Back to list
Visit website