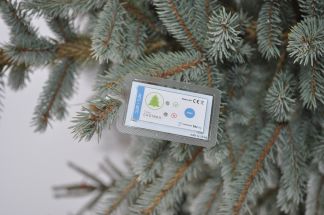 NEWS: Is your Christmas Tree FRESH?
21-12-2016
Finally for 2016, lets finish with a Festive Flourish! Blulog, the Polish/French suppliers of temperature monitoring technologies for cold chain security, has been working with the Zawonia plantation to set up its monitoring solution on its Christmas trees.
During this busy sales period many clients have similar questions regarding the trees' production: When were the trees cut down? Where do they come from? How long will it take for them to loose needles? Do they smell like Christmas?
The Christmas trees are between 5 and seven years old and are cut just before their sale, without intermediaries so that they are fresh and in prime condition and can diffuse the smell of the forest throughout the house. In order to preserve the tree at best it is necessary to place it in a pot and to regularly give it water. If the tree does not drink water from the pot it possibly means that it has frozen and lost the capability of water conductivity" says Karolina, the plantation's owner.
To ensure the best quality and freshness of their trees the owners of the plantation decided to set up a solution to monitor the tree, from harvest to the final owner. Every customer can verify for himself that the quality of his Christmas tree is genuine. Owners Karolina and Filip wanted to prevent situations in which their client's Christmas tree has a hidden defect, for instance it starts losing needles shortly after purchase.
"Blulog offers a monitoring system composed of a NFC data loggers and a free Google Play app for download. Each customer can access the parameters of time, location and temperature of the selected tree, from the moment of its harvest " explains AIPIA Member Jeremy Laurens, Director France and Europe Blulog.
Credit card sized data loggers, attached to trees from a particular production batch simplify the identification process. Customers can access data by placing their smartphone next to the logger. They can access the information regarding the temperature conditions in which the tree was kept, the time of cutting, as well as the place of origin marked on the Google map.
"I chose this solution because the implementation of this process takes only one day and the data loggers will measure the data during several seasons, without the necessity of battery replacements. We would like also to adapt the 'Fresh Christmas tree' project in our online sales " explains Filip.
So make sure YOUR tree is fresh next year and INSIST on a data logger, maybe in the shape of a Christmas Decoration? Ho Ho Ho!
News overview