CONGRESS 2019: Using ePaper as a digital communication platform
| 10-11-2019 |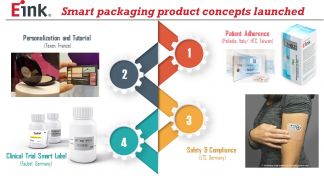 Smart packaging is undergoing digital transformation, according to E Ink Corporation a leading innovator of digital signage and electronic paper display technology (EPD). During its presentation the company will explain how to enable value creation with Smart and Reusable Packaging by adding sensors and wireless connectivity, to enable item-level tracking and product information communication. This enables Brands to engage consumers to increase trust and satisfaction.
However, user interaction often requires another device like a mobile phone. The question is: how to eliminate this additional step and engage consumers directly with the product packaging?
Packaging with a display can enhance user satisfaction by making the actual product use occasion more engaging, efficient, and informative, it says. Examples includes pharmaceutical packaging that records the time medication is taken, as well as monitoring the environment, to provide mission-critical content to the end customer directly, without the need of an external device to read out the data.
E Ink recently developed a flexible battery-less smart label powered completely by NFC or UHF. Once an image is switched, the ePaper display will continue to show the information with no further power input required. The combination of an ePaper and RFID in a single platform allows smart label to streamline updating product information, inventory management, and logistics/intra-logistics operations, according to E Ink. Both the human- and machine-readable data can be updated easily and efficiently without maintaining separate paper and RFID labels.
Another benefit goes beyond consumer engagement with this technology: the paper-like display can be designed to be reused, helping to improve sustainability across the supply chain, while, at the same time, enhancing the customers' shopping experience.
Both battery-powered and battery-less solutions have been adapted by companies providing smart packaging label for clinical trials, in the intra-logistics applications, and logistics e-commerce packaging boxes.
On its booth, E Ink will demonstrate how low power display technology communicates, encourages deeper interaction and builds trust with the physical products and the brand's digital presence. This is achieved by providing consumers with a communication interface to verify, instruct, stay informed, and enable new business models.
SEE AT AIPIA WORLD CONGRESS AMSTERDAM NOV 18-19
« News feed