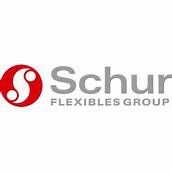 Schur Flexibles
C­CE­LE­RA­TING CHAN­GE FOR A BET­TER WORLD THROUGH PRO­TEC­TI­VE PA­CKA­GING SO­LU­TI­ONS
As a leading European supplier of highly specialised flexible packaging solutions, we at Schur Flexibles have made sustainability our core purpose. Founded in 2012, our fast-growing pan-European group connects 2,200 employees and 23 production sites in eleven countries, operating some of the most modern printing houses in Europe. We pursue a holistic approach towards sustainability and aim to pave the way for a circular economy, fully endorsing the EU Green Deal, and emphasising "HOW" we produce in each and every step of our business. We deliver best in class customised packaging to prevent loss and waste of food along the supply chain of essential goods. This is why we are part of the "50 Climate & Sustainability Leaders" initiative and the World Economic Forum CEO Action Group on the European Green Deal.
Our Centres of Excellence are all well-known players in their markets, encompassing the full range of competencies along the entire integrated value chain for made-to-measure protective solutions – from the sourcing of raw materials, film production, printing and refinement to laminating and converting. This makes Schur Flexibles a one-stop shop for tailor-made packaging specifically for the food, hygiene, aroma protection and pharmaceutical industries. Continuously adapting to a changing world, we are relentlessly optimising our technologies, products and solutions. This is how we drive the digital transformation and creatively shape change in the packaging industry.
The company offers both premium-quality gravure printing and top flexo printing in small batch sizes, high barrier shrink films and shrink pouches, side sealed bags, extremely thin laminate films, flexible PA/PE films or PP-based rigid films and prepunched top lids. No matter what your individual requirements may be: Schur Flexibles offers customised packaging solutions which give you the competitive edge, which allow you to stand out from the crowd, and which really pay off. This is what our around 2,200 dedicated empoyees at 23 sites are working for day by day, giving "Our Best for Your Goods".
Back to list
Visit website