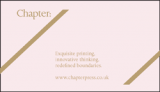 Chapter Press Limited
Considered and informed investment in colour management can benefit buyer and supplier alike. It is one of the few areas where increases in quality and efficiency go hand-in-hand.
Chapter Press are a young company who demonstrate how good colour management can benefit all round. According to Chapter, the decision to invest was an easy one. Jonathan Savory, director of Chapter Press, tells us: "We felt strongly from the outset that there was little sense in making the considerable investments required to start a printing company without also investing thoroughly in colour management. The ability to accurately measure, analyse and calibrate through the proofing and printing process holds clear advantages for us and our clients in terms of expectation, not to mention the efficiencies and cost savings from improved productivity which we are able to pass on to our clients"
Back to list
Visit website