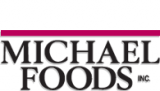 Michael Foods
Michael Foods, Inc. is a leading food processor and distributor with business in egg products, refrigerated grocery and potato products, and with net sales exceeding $1.5 billion.
At Michael Foods, our customers' wants and needs serve as a foundation for all we do.
We have become a leader in the food industry by introducing innovative, value-added food technology and customer solutions.
Our brands, Papetti's®, Crystal Farms®, AllWhites®, and Simply Potatoes® to name a few, are recognized and valued by customers and consumers across the nation.
Back to list
Visit website