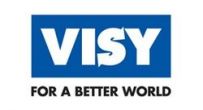 Visy
At Visy we've always looked at things differently. Where most see waste, we see opportunity.
This innovative nature is stronger today than ever before. Not happy to rest on our achievements, we now strive to create a world where rubbish is a thing of the past and everything is recyclable.
At the same time, we are seeking new ways to package the world. Ones that make transport more efficient, create less waste and wow people when they see our creations on the shelves.
VISY'S VISION
Our vision is to be the leading provider of recycling, paper and packaging products and services, via a dynamic business model that fosters innovative, sustainable solutions for superior returns.
We're always working to improve our business - either by building on our current strengths or investing in new activities. Our vision emphasises:
Working with customers to increase their profit through smart solutions
Continuing to build our world-class team of people
Building on our strengths to lay the foundation for future growth
Accelerating our innovation and technology initiatives
Enhancing our leadership position in environmental and sustainability initiatives
Upgrading our systems, processes and procedures, with an emphasis on governance
Back to list
Visit website