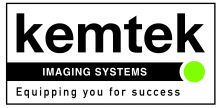 Kemtek Imaging Systems
Kemtek Imaging Systems Holdings Limited is a leading supplier to the sub-Saharan printing, bar coding and labelling industries. Kemtek operates from branches in Johannesburg, Cape Town, Pretoria, Durban and Port Elizabeth, and also boasts a dedicated export division.
Kemtek Print Solutions focuses on providing state-of-the-art, end-to-end solutions to the print industry.
Kemtek Bar Code Solutions is a major distributor of bar code equipment, including scanners, mobile computers, printers, thermal ribbon and rewinders.
Kemtek Label Solutions' comprehensive product line-up ranges from basic hand-held printers for home use, to sophisticated PC-driven desktop office and industrial printers.
Back to list
Visit website