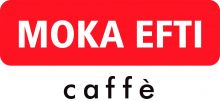 MOKA EFTI SPA
MOKA EFTI S.p.A. – Società Lombarda per l'Industria ed il Commercio del Caffè is specialized in importing, roasting and selling coffee in the professional hotel, restaurant and catering channel since 1930, when it was taken over by the Monti family who maintains its control still today.
The sales organisation is made of 30 agents operating throughout Italy and supported by 5 inspectors for a widespread distribution of the product in all regions of Italy via numerous depots serving about 7,000 customers.
The factory is 4,000 square metres large and employs a staff of 30. Here the lots are stored, the coffee beans roasted and the finished products packaged to be then distributed, using in-house means as well as the most technologically advanced transport companies.
Management has always dealt with importing Green Coffee directly from the Countries of origin where special preferential relationships exist with a number of farming enterprises specialized in cultivations of the highest quality.
Special attention and recent investments have supported exports to Europe as in the rest of the world: important commercial agreements and the confidence of many operators are the base of the sales in Great Britain, Spain, Germany, France, the Middle East, Russia and the United States.
Back to list
Visit website