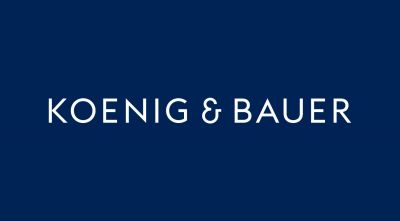 Koenig & Bauer KG
Koenig & Bauer AG is a German company that makes printing presses based in Würzburg. It was founded by Friedrich Koenig and Andreas Friedrich Bauer in Würzburg in 1817, making it the oldest printing press manufacturer in the world still in existence. 95% of the world's banknotes are reputedly printed on KBA presses.
Digital & Webfed
Koenig & Bauer Digital & Webfed in Würzburg develops, plans and markets tailor-made web presses for digital and offset printing.
Digital Web Printing
Web Offset Printing
Corrugated printing & processing
Paper Logistics
Workflow
Sheetfed
Koenig & Bauer Sheetfed offers innovative high-performance sheetfed offset technology from half-format through to superlarge-format.
Sheetfed Offset Presses
Digital Sheetfed Printing
Postpress
Quality Measurement & Control
Koenig & Bauer Workflow Solutions
Flexo
Koenig & Bauer Flexotecnica develops cutting-edge flexo presses for printing flexible packaging materials.
Flexo CI
Finishing & Post-Press
Special Solutions
Metal Decorating
Printing on glass and hollow containers
ID-Systems
Banknote and security printing
Back to list
Visit website