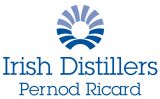 Irish Distillers
In 1988, when Irish Distillers became part of Pernod Ricard, Jameson sold 466,000 cases globally, with Ireland as its main market. But Pernod Ricard were quick to identify Jameson Irish Whiskey as a flagship brand with massive potential in all four corners of the globe. In the years that followed the company invested consistently in the brand. We told anyone who would listen about its unique qualities, its time-honoured triple distillation and the passion of its master distillers and blenders. As a result by the end of 2012 Jameson had reached the milestone of 4 million cases sold globally – including 1 million cases sold in the USA.
The sky is the limit and to meet the increased demand, two significant announcements were made in 2010.
In May 2010, planning permission was granted for a €100 million investment in a new whiskey maturation facility in Dungourney near Midleton, Co. Cork. In addition there will be a second €100 million investment in expanding the distillery in Midleton. Building work is underway employing around 250 construction workers over a period of 15 months with completion due in 2013. The newly expanded distillery will create 60 manufacturing and technical jobs.
Irish Distillers Pernod Ricard also continue to invest in the global sales and marketing of Jameson, Powers Gold Label and our Single Pot Still of Midleton range.
Back to list
Visit website