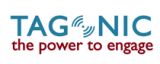 Tagonic
Tagonic helps businesses implement innovative and engaging customer interactive campaigns utilising the latest mobile technologies like NFC and QR codes.
We understand that the off-the-shelf templated campaigns won't necessarily meet everybody's requirements. Tagonic LTD can work with you to understand your exact requirements, create a custom solution that meets your needs, and develop the solution you require through full project management and delivery.
Whether it's a simple app download campaign or a complex loyalty program, or customer engagement program, we can help bring your ideas to life.
Back to list
Visit website