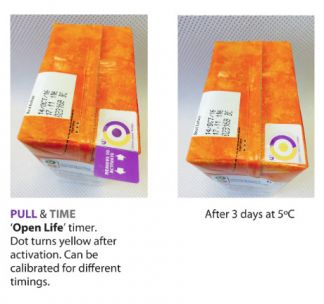 NEWS: New Label Shows When Food Pack Opened
08-11-2016
Insignia Technologies, based in the UK, has developed 'Pull and Time'; an active and intelligent film label solution that helps prevent food waste by offering consumers information about how long a food package has been open.
The label features a time and temperature indicator as well as a pull tab located on its left side. Removing the tab brings the label's active components into contact with each other and initiates a colour change. Labels can be customized to have the colour change take place over a variety of different time periods, ranging from one to two days, up to a maximum of six weeks under refrigerated conditions.
The production process is scalable, according to the company and is carried out using a standard narrow web flex printing press. Insignia Pull and Time received the Best New Concept award at the recent UK Packaging Awards.
REGISTER FOR
AIPIA CONGRESS NOW
News overview