Hershey: using its packaging intelligently
| 17-07-2020 |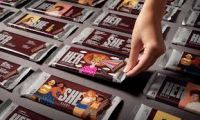 As part of our new partnership with The IoP Journal in Brazil we are featuring extracts from a recent interview with Marcel Sacco, general director of Hershey Brasil, which explores the company vision about the use of Smart Packaging and general trends in this technology. Sacco spoke about the benefits achieved in several campaigns using smart packaging and its growing needs for this kind of technology.
"We are evaluating several initiatives that are included in the smart packaging umbrella. Things like identification and tracking in supply chains, using technologies based on radio frequency identification (RFID), digital printing as a tool to guarantee the authenticity of products, and the promotion of sustainability, with a focus on reverse logistics, correct disposal and packaging recycling," explained Sacco
In addition to special Heroes packaging, honouring health workers, using digital print technology and QR codes, the company produced special editions of its milk chocolate packaging to celebrate International Women's Day. The words Her and She are always present in the Hershey's brand name. The action transformed the packaging into a gallery to promote the work of many talented women. The QR Code was also used to publicize Hershey's certification by the Rainforest Alliance, as the only global chocolate company to certify 100% of the cocoa used.
"Smart packaging is undoubtedly a way to communicate and relate to our audiences, as it allows individuality of themes and details of relevant content for each segment of consumers we reach. The two actions carried out recently had a very impactful result with our consumers, generating relevance for the brand," he continued.
"We have increasingly used packaging as a means of communication. In addition to the digital applications and the use of the QR Code mentioned earlier, for the promotion "Hershey's Que Viaaaaagem", in 2019, we promoted a simulation with augmented reality (AR) at the Walmart Pacaembu supermarket. It publicized the promotion of a trip to Hershey Park, in the United States, as the main prize. In the AR experience, the consumer was transported to the amusement park and then the Statue of Liberty.
"The company view is that packaging as a powerful media is on the rise, especially with technologies such as QR Codes, Augmented Reality, Near Field Communication (NFC), Digital Printing, allowing interaction with customers' smartphones. We are aware of these trends and promulgating several actions in the direction of using these technologies," concluded Sacco.
The full interview can be found on the IoP Journal website www.iopjournal.com.br

GO TO VIRTUAL CONGRESS AGENDA
« News feed