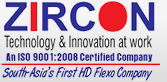 Zircon Technologies India LTD.
Growing demand of Brand Packaging Labels and Barcodes their fast growth encouraged Zircon Technologies India Limited to enter in labels manufacturing industries. Under a single corporate umbrella, we offer an assortment of products and services geared at being the "best in class" for their types. In order to keep our customers up to date on the latest technology and specifications, we are offering latest labels and barcodes.
Our victory is a result of our assurance to the uppermost standards in product quality, innovative technology and amazing customer service.
Quality and customer contentment is key objective of our company. Hence, we offer an extensive array of barcode labels & brand packaging such as industrial food labels, security barcode labels, laser barcode labels, rfid barcode labels, printed industrial barcodes, barcode food labels etc. Our company is backed by a team of highly qualified and experienced professionals who have specialization in designing brand packaging and barcode labels and fruitfully catering varied demands clients across the world.
All the products offered by us are approved through different quality check points before offering to clients in order to maintain company trademark of consistency and durability. Our dexterous professionals offer these products as per the needs of customers and demands of markets. Through our extensive efforts, we ensure that we improve our competitiveness and upgrade our spectrum of activities thereby meet with all the demands of the clients.
Back to list
Visit website