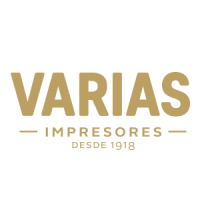 GRAFICAS VARIAS SAU
One hundred years of business activity bear witness to the ongoing work that allows us to continue making history.
It all started in 1918, when Josep Varias Bou entered the world of business by setting up his own graphic arts company in the town of Sant Sadurní d'Anoia, near Barcelona.
At the end of the 30s, the company had established itself as a specialist in printing labels that could be glued onto wine and cava bottles, due mainly to its location in the heart of the wine-producing region of El Penedès. The growing demand in the wine sector and the drive to offer outstanding quality meant that at the end of the 60s, letterpress printing was gradually replaced by offset, which led to renovation of both the machinery and the facilities.
Josep Varias Sardà, the son of the founder, took over as Director of the company from 1978 to 2006. It was during this period that Gràfiques Varias grew from a small graphic arts workshop into an industrial graphics company. Before his retirement, Varias Sardà was joint Director together with his son, Josep Varias Ribot, who currently stands at the helm of the company, helping it to grow and develop and providing it with the most cutting-edge technologies on the market.
As a result of the company's growth, in 1989 it moved to its current location in the Can Ferrer Industrial Estate, also in Sant Sadurní d'Anoia, where it took over a 3,200-square-metre industrial unit. It was at this time that the company introduced a new production line for rolls of self-adhesive labels.
Due to the company's ongoing expansion, in July 1999 it extended its facilities to the current size of 5,200 square metres.
Throughout this period, in accordance with a policy of ongoing technological innovation, significant investments were made to incorporate the most up-to-date label-printing technology and adapt to the demands of a constantly evolving market.
These efforts, together with a combination of talent, passion, experience and competitive instinct, are what have placed VARIAS in an ideal position, allowing it to face the future with numerous challenges on the horizon and a large project portfolio.
Back to list
Visit website