Full temperature traceability of pharmaceuticals in 7 seconds
| 17-01-2019 |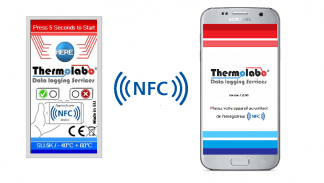 The strength, efficacy and potency of a drug can be profoundly degraded by changes in temperature. So drugs should be stored and transported only within temperature conditions under the terms of their Marketing Authorisations (MA)," says Stéphane Mure founder of Thermolabo. His company has worked with AIPIA member BluLog for a simple solution and created the Sensolabo®.
Thermolabo was founded in 2015 to help pharmacists provide easy access to high quality medicines. "The company's activity was initially focused on temperature data management and datalogger supply services. We were constantly obliged to address the same problems generated by traditional dataloggers and decided to look at how to provide customers with a compliant, easy to use, geo-located and low-cost way to monitor their products." he explains.
"After testing GSM, Bluetooth and IoT solutions, it became clear that only NFC Contactless technology met with all our expectations. So we began a partnership with Blulog to develop a pharma-centric contactless monitoring logger," said Mure.
From the beginning, the required solution was driven by simplicity. "Above all, an NFC contactless datalogger is very easy to use. With one movement, thanks to Sensolabo®, it now possible to read, send and instantly store the data and be alerted by email in less than 2 seconds, without any technical installation," continued Mure.
"Sensolabo® strengthens compliance by eliminating data manipulation and reduces the time in which goods are received, as well as workload. It only takes 5 seconds to start and 2 seconds to process," he claims.
The technology is already used by pharmaceutical companies and drug distributors around the world, major NGOs and different medical entities, as well as other international companies, including DHL, according to BluLog.
« News feed