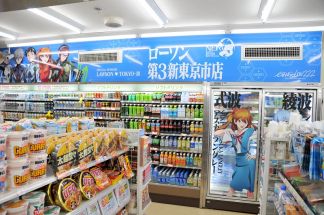 NEWS: E paper and UHF inlay combine for battery-less tag in Japanese stores
06-11-2018
AIPIA member E Ink Holdings, a leading innovator of electronic ink technology, has worked with Fujitsu Semiconductor to jointly develop a reference design board for battery-less ePaper tags. The solution adopts E Ink's low voltage ePaper module and Fujitsu's UHF FRAM RFID LSI.
The aim is to improve logistical efficiency and accuracy, while reducing paper use for Japanese convenience store retailers. The electronic ink smart label displays data which can be updated via UHF RFID transmission. The tags require no battery, instead using energy culled during RFID interrogationto capture, store and display e-ink data. The board enables data transfer distances of up to 20cm, enabling the tag to be updated at any time without data storage restrictions.
This novel application was a collaborative effort between the partners and also included Toppan Printing which is developing and will produce the battery-less tags, using the Fujitsu inlay, initially for Japanese convenience store chains and then for the general logistics and manufacturing sectors.
"E Ink is continuously working to improve and develop new power saving ePaper solutions," said Johnson Lee, president of E Ink Holdings. "Combining two major trends in the electronics industry, battery-less and energy harvesting, this logistics ePaper tag could be a game changer in logistics."
Japanese convenience store chains have already noticed the environmentally friendly value the ePaper tag brings and are expected to deploy these tag solutions to replace paper tags. Common throughout Japan these stores offer everything from beauty and health aids to snacks. Averaging only 100sqm in size, these neighborhood stores are able to change their inventory to meet the shifting demands of local consumers very fast. So inventory must move equally fast from distribution centres to these small stores.
Masato Matsumiya, VP Head of system memory company of Fujitsu Semiconductor added, "The reference design board enables maintenance free performance and the inclusion of FRAM allows for low power consumption, fast writing speeds and a non-volatile system. This enables the tag to be updated at any time. This technology will generate innovative applications in new markets."
"The combination of E Ink technology and the UHF band, is a world's first and has promising potential," said Shinji Ooi, general manager of business development at Toppan Printing. "We are working towards early commercialization of this combination."
Eventually, they claim, the solution can be used not only for logistics tags, but also for e-paper badges, ID cards and electronic shelf labels.
More about this at AIPIA World Congress REGISTER!
News overview