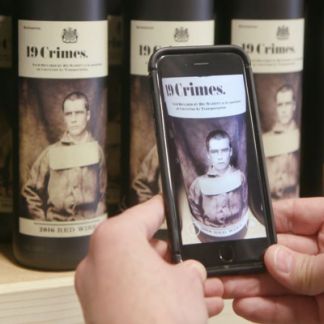 NEWS: Drink Wine..Hear Voices? Its All about the Label!
03-01-2018
Treasury Wine Estates (TWE), based in Victoria, Australia and whose brands include Penfolds, Wolf Blass and Lindemans', has partnered with a company called Tactic on an augmented reality (AR) campaign that sees labels tell stories via an app.
The app company created a series of animated characters for TWE's wine label 19 Crimes, which, when triggered, had the various characters on the labels begin to speak to the user, according to a recent article in Australian packaging journal PKN.
Once a buyer downloads the app and points their phone camera at a bottle on the shelf, the character on the label becomes animated and tells his personal crime story. The shopper can also share the AR experience on social media.
Tactic combined its expertise in character animation and visual effects work with its knowledge of mobile AR, and created an integrated experience for the brand via the app, which has launched in time for summer in the Southern Hemisphere.
The 19 Crimes label is modeled on the history of the founding of Australia as an English Penal colony, and the labels depict various prisoners who were banished to their new fate. Tactic employed voice actors to portray these characters and modeled them to seamlessly animate from each of the brand's seven signature lines.
"19 Crimes is a wine brand that tells a rich and authentic story and has proven to have strong appeal to millennial consumers," says TWE chief marketing officer, Americas, Michelle Terry. She notes in her statement that using this new label technique is "without a doubt one of our most successful innovations."
News overview