Digital twinning can help reduce food waste
| 05-02-2019 |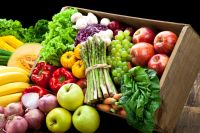 Food waste occurs at all stages of the supply chain, from farm to distributors, retailers and consumers. Food that would otherwise end up in a landfill, contributing to greenhouse gases, can be turned into a resource, however, by redistributing it to various channels, such as food banks, in order to help people in need. Digital twining via the Internet of Things (IoT) could help to solve this problem, according to an article by Neil Sequeira, director of product management and marketing at QLIKTAG Software, which appeared in RFID Journal.
There are plenty of reasons why retailers end up with unused food. It could be due to over stocking, over production, unsold items after sales or competitions, items that are past their best-before dates, goods whose appearance do not match specified standards, stock management mistakes, etc.
The major hurdle that distributors and retailers face is not a food problem, but logistics. It's a tedious process to manually check for items that can be redistributed. By the time that a store employee realizes a batch of products is eligible for redistribution, it could be well past its expiry date. Costs incurred from logistical challenges and manpower to sort food by best-before dates could be a major deterrent for retailers and supermarkets, preventing them from getting more involved with food banks.
The Internet of Things could provide an answer to this dilemma. If each item were digitally tagged, allowing it to have a digital twin on the internet—which could then be used to store best-before and expiry dates—retailers and consumers could have access to applications and technologies that identify products needing to be transferred to a food bank or put on clearance, before it's too late.
Once best-before or expiry dates are electronically stored on a digital twin, it becomes simpler for retailers and consumers to interact with products via smartphones, RFID readers, NFC readers, smart-shelf technologies and other applications that can read, process and alert them ahead of time. Retailers will always have a clearer picture of the contents of their inventories, with more visibility toward food products that are becoming eligible for redistribution before waste happens.
Not only will this mean that distributors will always be on their toes and ready with products to be pushed into redistribution channels, but they will also solve issues regarding storage space and costs caused by unused items.
« News feed