CONGRESS 2019: Hybrid electronics project aims to speed up printed electronics production
| 18-10-2019 |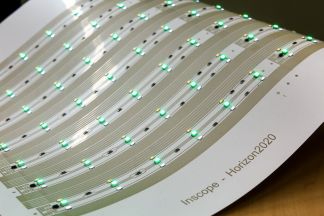 Several well known Research and Technological Development centres (RTDs) within the AIPIA ecosystem are part of a consortium funded by the EU's Horizon 2020 program to enable quicker and wider development of thin, organic and large area electronics - hybrid printed electronics (HPE).
The InSCOPE project has provided a comprehensive complementary toolbox for HPE manufacturing processes. In addition it set up infrastructures to enable a service of 15 development cases during the project, as well as demonstrate commercial viability, by presenting four showcases which demonstrate hybrid printed electronics capabilities in large volume markets.
Project coordinator Holst TNO will present the results of the 3 year project, to date, in the Congress demonstration area as well as making a presentation about its work. Holst, based in the Netherlands, teamed up with other project partners, such as CPI and VTT, to allow faster transition of product concept from R&D to support the build up of manufacturing capacity. This gives a great chance for SMEs to enter the market with THIN, ORGANIC and LARGE AREA ELECTRONICS enabled products, they say.
The partners in InSCOPE, which also include GSK, Bosch and Kone, estimate the market for this growing technology was already €37B in 2018. Lower manufacturing costs and fast access to prototypes seem the main drivers for potential users. In order to secure a dominant European position in this market, all major RTDs working on hybrid printed electronics joined forces to develop the open access pilot line to boost commercial adoption.
The pilot line is modular so ensuring a comprehensive toolbox of printing, assembly, production integration and process validation facilities distributed over the InSCOPE partners. The technology is well suited for electronics applications that require mechanical flexibility. Key applications can be found especially in the health, smart packaging, smart building and automotive sectors.
The project's aim is to become the leading HPE development service worldwide, creating sufficient market traction to allow self-sustaining operation. The pilot line will remain accessible to interested parties even after the completion of the InSCOPE project.
SEE AT AIPIA WORLD CONGRESS AMSTERDAM NOV 18-19
« News feed