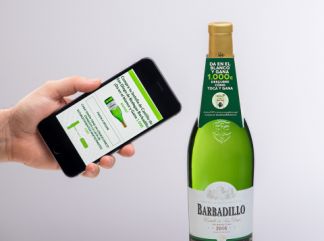 NEWS: 'Largest Ever' Deployment of NFC Tags in Wines and Spirits
07-08-2017
Thin Film Electronics the major NFC mobile marketing and smart product solutions provider, is partnering with Spanish winemaker, Barbadillo, with the launch of a consumer-focused marketing campaign using Thinfilm's SpeedTap™ tags and CNECT Brand Analytics SaaS Platform.
The national campaign includes 126,000 NFC-enabled 'smart' bottles of Castillo de San Diego and is believed to be the largest global deployment of NFC to date within the wine and spirits industry. The connected bottles are being sold through 15 major supermarket chains and superstores.
Barbadillo's campaign, named 'Dando en el Blanco' (which loosely translates to 'Hitting the Target'), enables the winery to engage directly with consumers, deliver a digital experience, while collecting valuable consumer data.
Through a customized NFC-enabled neck collar, consumers can tap the bottles with their smartphone to learn about the promotion, which offers the chance to win 12 €1,000 prizes. After opening a bottle, customers can retrieve a unique code printed on the cork and enter it in the field displayed on their smartphone – along with personal information – to instantly find out if they are a winner. The campaign, which also includes television, online, and outdoor advertising support, was launched on July 17 and will run through August 31.
SpeedTap tags are thin, flexible labels that integrate with a product's packaging or label and can be read instantly (without the need of an app), with the tap of an NFC-enabled smartphone or device. Each tag is uniquely identifiable and is virtually impossible to clone, says the company. Once tapped, the tag wirelessly communicates with Thinfilm's cloud-based software platform – CNECT™ – to deliver targeted, relevant content from the brand or manufacturer.
The 'Dando en el Blanco' campaign is the second time Barbadillo has incorporated Thinfilm's NFC technology in one of its products. "Given the success Barbadillo experienced the first campaign using Thinfilm's tags, we were eager to explore other ways to deploy the technology," said Alvaro Alés, director of marketing & communication for Barbadillo.
"The 'Dando en el Blanco' campaign featuring Castillo de San Diego illustrates a compelling use case for NFC mobile marketing – not just in the wine and spirits industry but with other consumer products as well," said Davor Sutija, CEO of Thinfilm.
REGISTER FOR AIPIA WORLD CONGRESS NOW
News overview