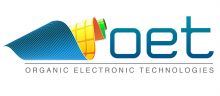 Organic Electronic Technologies (OET) P.C.
Organic Electronic Technologies (ΟΕΤ) is a world leader in roll-to-roll (R2R) manufacturing and technologies for flexible Organic and Printed Electronics (OEs) and holds more than 25 years experience in thin film technologies and processes.
OET's core activities include thin films manufacturing processes and production for OPVs and OLEDs, encapsulation technologies, and unique in-line optical precision metrology and pulsed laser for patterning tools. OET integrates all OEs processes and technologies into production lines for Energy and Lighting in automotive, buildings, wearables, IoT, smart packaging, etc.
OET's R&D center includes printing and vacuum pilot lines integrated with in-line optical metrology for quality control and in-line pulsed laser tools, available for process development, prototypes and low-to medium-volume production. OET is the co-founder of the Hellenic Organic & Printed Electronics Association (HOPE-A).
Back to list
Visit website