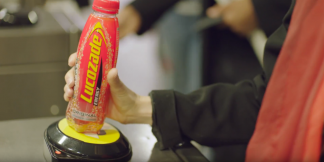 NEWS: Travelling Free Thanks to Smart Bottle
14-06-2017
Lucozade, one of the UK's biggest selling energy drinks, now part of the Lucozade Ribena Suntory stable, partnered with Transport for London, which operates London Underground, to offer a free ride to commuters through a 'smart' bottle of the Brand's Energy Orange drink.
By tapping the 380ml bottle, which contained a chip in the bottom, on the Oyster card readers at Oxford Circus station - in the heart of London's West End - the lucky receiver of one of the 5000 samples on offer was able to take a complimentary ride on the tube train.
The sampling campaign, which ran for a week through the end of May and early June, is part of the Brand's Find Your Flow campaign, which was launched in 2016 and, it says, helped grow the value sales of the Energy Orange drink by £11million in that year. The campaign is aimed at raising awareness of the Brand among busy, on-the-go consumers.
"We are excited for Lucozade Energy to be able to launch this new campaign on the Tube," said Ashleigh Roberts, senior brand manager at Lucozade Energy, "In a city that's always on the go, we're giving Londoners an extra opportunity to get where they need to be in a fun and unique way." Sales uplift of the soft drinks segment between June and August is as much as 17% by value, according to researchers at IRI.
"We are supporting the energy brand segment with high profile activity throughout this period," added Roberts.
News overview