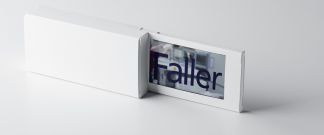 NEWS: Three New Packs Can Help Patients Manage Their Medication
03-01-2018
At Paris Pharmapack (7-8 Feb 2018) August Faller is presenting three prototypes of smart packaging. The company's folding boxes are designed to improve compliance and make it easier for patients to manage their medication.
The intelligent, interactive drug packaging, developed by Faller in collaboration with MSC Technologies and the Pforzheim University of Applied Sciences in Freiburg, is equipped with small e-paper displays and electronic controls (buttons).
Prototype I: "Level Indicator", is medication packaging for measuring levels. During measurement, the bottle remains in the packaging. The display on the outside of the packaging shows the level and reminds the patient in time to request a new prescription.
Prototype II: "Counting Device", features an electronic tablet counting device. The patient uses buttons on the packaging to confirm that he or she has taken their medication, which in turn reduces the tablet count. Once a minimum number of tablets has been reached, the display shows a message reminding the patient to renew their prescription.
Prototype III: "Medical Prescription", here, the box not only counts how many times the patient has taken his or her medication and reminds them of prescriptions, but, thanks to an app developed in-house and Bluetooth, a doctor or pharmacist can also transfer the dosage instructions to the carton, while an integrated clock, an LED and an audible beep also remind the patient to take their medication at the right time.
News overview