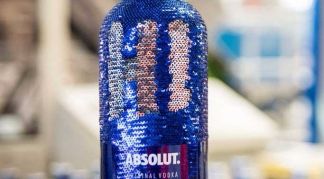 NEWS: The World's Most Tactile Spirit Bottle?
29-10-2017
AIPIA always acknowledges that 'smart' packaging can come in many forms. And it does not always involve a tag or smartphone to create a very clever and disruptive pack. Merely the touch and look of a container can create a stunning effect and generate consumer engagement. That IS smart!
Leading spirit brand Absolut, has a strong reputation for distinctive and head-turning limited edition packaging innovations. They release a new special edition every year. Their latest creation once again ticks all the disruption boxes. Absolut Uncover sees the bottle resplendent in sparkling sequins with a fabric cover that surrounds the bottle.
The bottle is just asking to be picked up and played with and consists of sequins in silver and Absolut brand blue. The 'Absolutely Uncover Case' has a 'hand-flip' feature, delivers an element of fun through the opportunity for consumers to move the sequences around and create their own personalised patterns on the case
The design has taken inspiration from the sparkle of the night and is brought to life through high quality sequins with the surprising hand flip effect. Absolut Uncover wants to encourage you to unlock your creativity by creating your own messages and add extra excitement to every occasion!
Markus Wulff, who is Digital Business Innovation Manager at the Absolut Company will offer insights in the Pernod-Ricard (Absolut's parent company) 'Connected Packaging' pilot at this year's Congress. We have not asked him if he is coming with a sequin jacket. But you never know....
Find more information on Mark's presentation here!
News overview