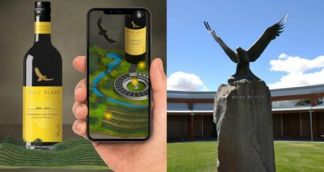 NEWS: TWE Rolls out AR experience on its major Brand wines.
24-09-2018
We are always very excited by Augmented Reality (AR) applications so it is pleasing to find a report in Australias leading packaging publiucation PKN that, following its successful foray into augmented reality on its 19 Crimes wine labels last year, (see AIPIA newsletter 03/01/18) Treasury Wine Estates (TWE) has invested in the technology at scale, launching it on two more of its leading brands.
TWE was the first wine company to introduce AR to its labels. The AR experience on 19 Crimes was activated via the Living Wine Labels (LWL) App, which has had over two million downloads globally since last year's launch.
Recognising the value of packaging-driven AR experiences in helping drive consumer engagement at point of purchase, the company says it will continue to expand this technology across its portfolio of leading wine brands, with the latest launch in Australia on Wolf Blass Yellow Label and Matua and using the same app to activate the experiences.
"The US market, where 19 Crimes is well established, was a runaway success, but there was a pleasing uptick in sales in both Australia and the UK, both showing a similar growth trajectory, albeit off a lower base," according to Angus Lilley, TWE's chief marketing officer. "19 Crimes has gained traction quickly and is currently growing 21 times faster than the red wine category," he said.
Lilley said that while the focus is on calling out the AR technology and the Living Wine Labels app on the label itself, wherever possible, TWE collaborates with retail partners to create in-store awareness around the campaign. The execution included installation of full-size jail cells in selected stores to bring the brand to life.
"We definitely see value in leveraging AR to drive consumer engagement, and we are continually looking for new ways to evolve the platform to create experiences that fit each brand story.The new experiences on Wolf Blass and Matua allow us to connect with consumers in a unique way on some of our most popular wines in the portfolio," Lilley added.
TheWolf Blass Yellow Label AR experience is more of an educational journey, while the Matua AR is more of a fun engagement, highlighting the brand's 'refreshing drink' positioning.
More about this at AIPIA World Congress REGISTER!
News overview