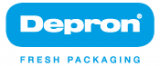 Depron BV
Depron, has been active in the development, production and distribution of an extensive range of Polystyrene (PS) and Polypropylene (PP) based products for Food, Non Food and industrial use for more than 40 years now.
Beside the conventional food trays, Depron has developed Top Seal barrier trays, open cell trays (patented Depron Dry trays) and a large range of flat absorbent trays for the European fish industry.
Innovative concepts like biodegradable PLA products, microwave packaging for food & catering and new XPP products have been developed recently.
Manufacturing is done with state of the art equipment in Weert ( NL ), a central location in N-W Europe, on a 7,5 ha site including warehousing (4.000 pallet locations) and main office. We consider North-Western Europe and Baltic countries are our main markets.
Depron offers maximum capacity and flexibility at costprice leadership. This we achieve by a market-driven approach.
At Depron we strive to help our customers, optimize their proposition and maximize added value to their products.
We focus on innovation, R&D with respect for the environment, our customers and employees, resulting in optimal sustainable (packaging) solutions, now and in the future.
Back to list
Visit website