Soda Bottles come to life with AR labels
| 25-10-2021 |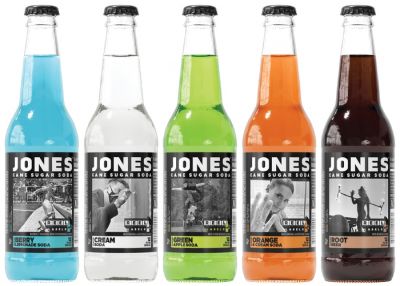 Reflecting on the fact that its labels are the original user-generated content, for its 25th anniversary, Jones Soda has relied on content creators to take its labels to the next level with augmented reality (AR) says a report in US journal Packaging World. The company has brought its packaging to life with a series of limited-edition AR bottle labels that showcase 15 extreme athletes and edgy artists in action, it says.
The AR labels are being used on five of Jones's top-selling soda flavours, with a total of 1.5 million bottles produced for the campaign overall. The labels are activated by consumers through a new Jones Soda smartphone app, developed in partnership with marketing agency Triggerhouse.
To access the action, after downloading the dedicated Jones app, consumers use their smartphone camera to scan the image on any Jones Soda bottle having a Reel Label icon. The scan triggers a short video "bringing the viewer inside the unique world of its creator, whether he or she is painting a mural in time-lapse, dropping into a scooter bowl, or doing a hardflip at the skatepark," says Jones.
SEE DIGITALIZATION IN PACKAGING CONGRESS AGENDA HERE
"Our labels have been our calling card for over two decades, establishing and reinforcing our brand personality with constantly changing photographs submitted by Jones fans," says Mark Murray, president & CEO of Jones Soda. "Our new AR labels retain that authenticity and focus on consumer stories while also moving from still images to video to take advantage of newer technology. It's a way of expanding our fan base and shelf appeal, particularly for 'Gen-Z' who are avid content creators themselves."
"Because the company has a heritage in grassroots marketing, for the AR labels, it chose to highlight up-and-coming content creators who have a unique point of view and express themselves in creative ways," explains Jones Soda VP of marketing Maisie Antoniello."These are tied to Jones's roots in action sports and the arts. We have everything from a tattoo artist and skateboarders, which are very much old-school Jones, combined with 'new-school craft,' like jewelry design and scooter tricks," she says. Each activity is featured on 100,000 bottle labels.
Commenting further on how AR reflects the changing role of packaging, Antoniello says, "For Jones, our consumer-driven labels are our biggest single point of difference within craft soda. We believe our labels are the ultimate platform for consumers to express themselves. We view AR and our labels as an incredible vehicle for both brand storytelling and consumer engagement. For the brands that can execute in an authentic way, we will continue to see packaging and technology integrate."
Taking the user-generated content concept one step further, the company is accepting video submissions on its site from consumers for the next AR label cycle, scheduled for March 2022 release.Jones Soda's AR labels were launched in the USA and Canada in July.
« News feed