Open platform customer connection solution uses multiple activators
| 10-03-2020 |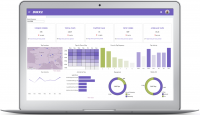 Tapwow, a provider of customer connection solutions, based in Connecticut, USA has announced general availability of DIRX2, a new open platform that connects brands to consumers through a variety of product activators, to provide engaging customer experiences and offering valuable information about the supply chain, it says.
The product allows brands to "know their customer" by delivering compelling experiences without relying on mobile or internet search engines, says the company. It is a flexible solution, allowing brands to use a variety of activators like NFC tags, QR codes, RFID tags, bar codes, image markers and other means to connect consumers to variable content. This can be driven by product, region, time of day, etc.
Companies can create meaningful lots and batches with new markers or even load and redirect markers currently in use to give old campaigns new life, it claims. It is an open platform that allows brands to choose technology providers, printers, creative partners, and hardware providers, to create a powerful customer connection eco-system that maximizes each partner's contribution.
According to Tapwow, it can identify potential solution providers for a brand to create an end to end solution or they can work with their trusted vendors within the platform.
"DIRX2 is a unique product in smart packaging and IoT solutions," believes Michael Sher, Tapwow CEO and former VP of Asia-Pacific for Thinfilm Electronics. "Many companies are looking at smart packaging featuring QR codes or NFC tags as well as other technologies. In a single platform, DIRX2 connects markers to content, from Tapwow or other partners, allowing consumers to begin a smart packaging journey now while having the option to grow with other technologies in the future. It is really a future-proof way to begin to unlock the power of customer connection," he says.
Available in a SAAS model, DIRX2 can be hosted in the cloud, or on premises if the customer prefers. The product is also offered as a white label solution allowing any partner in the customer value chain to offer smart packaging solutions to their customers under their own brand.
"Tapwow designed DIRX2 with the data in mind. The customer connection begins with unique content at the point of customer contact to drive meaningful and personalized engagement. Additionally, it will provide valuable supply chain interactions for track and trace, product diversion and anti-counterfeiting data via consumer interactions. All of this data is owned by the customer without having to pay third parties," explains Jeffrey McDowell, Tapwow President.
« News feed