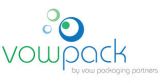 Vowpack by Vow Packaging Partners Ltd
Vowpack are a forward thinking packaging supplier, responding to the need in the market for fast turnaround products and an environmental edge.
Vowpack by Vow Packaging Partners is the home of flexible packaging. Built on years of collective experience in the industry, we have come together and created a company which vows to give the clients what they want. We understand the UK and European markets, and we know that quality, reliability and managed expectations from a supplier are the core of success.
Back to list
Visit website