Now Smart Cups are full of energy and more flavour
| 19-02-2020 |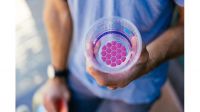 It is always nice to revisit a previous product story and report on a successful transition to a fully commercialized product. Smart Cups was created to be sustainably optimized, the world's first printed—and waterless in shipment—beverages. The company is about to launch into energy drinks as well as an improved range of fruit flavours with better printing technology, according to an article in Packaging Digest.
First launched in 2017 Smart Cups were relaunched in October 2019 with what the founder Chris Kanik claims are better-tasting flavors: berry blast, tropical punch and green tea lemon and the most popular, raspberry lemonade. Currently he considers the energy drink line as proof-of-concept rather than the best version of the technology.
"It's not that I loved energy drinks," he says, "but because I wanted to prove the functionality and versatility of the technology—that we can print caffeine, amino acids, vitamins inside a cup."
Smart Cups' fundamental advantage versus standard drinks is the sharp reduction of storage and transportation requirements. A truck that delivers 96,000 12-oz beverage cans now deliver 1.2 million units of that beverage in Smart Cups and with a significant weight reduction. Additionally having the ingredients in dry encapsulated form particularly for sensitive functional formulations protects against microbial growth while greatly improving shelf life.
At the heart of the patent and printable aspect is a food-safe polymer that protects the ingredients within that activates and dissolves in contact with a liquid, usually water. The products dissolve in 45 to 90 seconds.
Output has grown from making batches of 50 to 100 in the lab to thousands in the plant, a capability that will further be "tremendously increased by mid-2020" through automation upgrades.
Sold only online at the company website and at Amazon, the cups are available in two multipack sizes: 5- and 10-pack pouches made of a moisture-resistant, heat-sealed polyfilm pouch with press-to-close reseal. The 9-oz serving size makes for faster consumption versus the industry standard 12-oz size, but users can dilute to whatever strength they prefer.
The company is expanding the printing technology to include the interior cup sides as well. "That provides more surface to increase the flavor profile and allows for more complex formulations," Kanik says.
« News feed