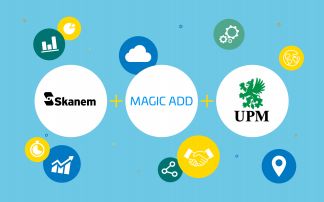 NEWS: New Partnership Offers 'End to End' Smart Labels
29-11-2017
Skanem Group, a major European supplier of product decoration solutions, has joined forces with Magic Add and UPM Raflatac for its Smart Label range. Magic Add generates unique identifiers/ codes and manages them with a cloud based content and data management platform. With applications on manufacturing, logistics, and marketing, the technology can solve many issues from counterfeit goods to food waste. UPM Raflatac's role in the cooperation is to act as a concept adviser and material expert.
With this partnership, Skanem enables its customers to promote, protect and track their brands with Smart Labels. Each label can be assigned a unique digital identity, which means more efficient tracking throughout the supply chain, higher consumer engagement and accurate authenticity verification, it says. The technology allow for both more content and dynamic content that can be customised all the way to the consumer level. All information is stored and managed via a cloud based data management system provided by Magic Add.
Skanem recently announced its range of Smart Labels as the latest addition to its product offering. These labels open up a world of possibilities for brands and products, whether it is by improving the brand experience, added security layers, traceability throughout the supply chain or all of these together, it claims. All this is just a simple scan away, making it convenient, and easy to access for the consumers, according to the company..
RFID, NFC, hidden codes, as well as machine-readable and human readable codes power Smart Labels. All information is stored and managed via the cloud based data management system. Skanem believes it makes the process simpler by offering an end-to-end Smart Label solution that is best suited for specific needs, from technology, conversion, design as well as printing the labels.
News overview