Nestlé, Carrefour and IBM mash up with blockchain!
| 18-04-2019 |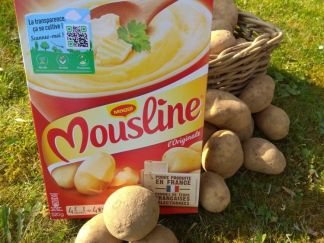 Nestlé has teamed up with French supermarket chain Carrefour and IBM to use the latter's blockchain technology to track a famous French convenience food, the companies announced recently. Nestlé and Carrefour, both members of IBM's Food Trust blockchain platform, will use the technology to track the supply chain of Mousline, a well-known brand of instant mashed potatoes.
Shoppers will be able to scan a QR code with their smartphones to know exactly where the potatoes in each individual packet came from, as well as its journey to the specific Carrefour store.
"Using the QR code on the product's packaging, each consumer will be able to use a secure platform on their smartphone to access information on the production supply chain, including the varieties of potato used, the dates and places of manufacture, information on quality control, and places and dates of storage before the product reaches the shelves," the retailer confirms.
The announcement comes just days after United States supermarket chain Albertsons said it was using Food Trust to track one of its products — iceberg lettuce — with the potential for more to follow. Worldwide, around five million different food items already employ blockchain in their supply chain in some form as the industry use grows.
Vineet Khanna, senior vice president and global head of supply chain at Nestlé added, "This Mousline pilot is the result of a successful partnership with Carrefour and a great step forward on our blockchain journey. We are using this technology to bring more transparency to our products by providing accurate, trusted and impartial information. That will benefit the whole value chain including retailers and consumers."
Raj Rao, general manager, IBM Food Trust, explained that blockchain can help improve our global food ecosystem, making it smarter, safer, and more sustainable for all. The technology uses the food industry's widely adopted GS1 standards, is built on the open source Hyperledger Fabric, and has the ability to run on multiple types of cloud networks.
"The root of many problems in our food systems is the lack of transparency: how visible the information is, how well people are able to understand what is going on and react in a timely and appropriate manner," said Rao. "With blockchain, all the participants in the supply chain can come together on a neutral playing field to share important information that will benefit the entire food ecosystem. This provides transparency for the consumer, while preserving data ownership for the companies involved."
« News feed