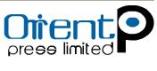 Orient Press Ltd.
Orient Press is a leader in printing and packaging solutions in India. With an eye unerringly fixed on the future, the company decided to unlock the value presented by flexible packaging in the country. Since 1995, the state-of-the-art flexible packaging manufacturing facility at Tarapur near Mumbai has been catering best-in-class packaging solutions across corporate India and throughout the globe.
Spread over 1,00,000 square feet, the Tarapur unit houses electronic cylinder engraver with dedicated pre-press facilities, three-layer blown polyethylene film plant, multi-colour rotogravure printing machines, solvent-based and solvent-less laminators, extrusion laminators, hot-melt coaters, slitters in addition to versatile pouching machines and shrink sleeve lines.
The company is now on an expansion spree with new factories targeted at strategic sites.
Back to list
Visit website