Mondelez now offers traceability for ingredients in top US cracker brand
| 08-07-2021 |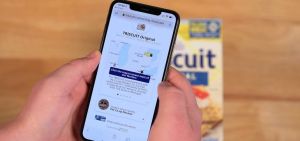 Mondelez International has confirmed that customers purchasing its Triscuit brand crackers will be able to trace the journey of the white-winter wheat used in some crackers from a co-op of farmers in Michigan to where the product is made. The global snack company said the supply chain transparency pilot is the first of its kind for Mondelez in North America.
Consumers are much more concerned today with Environmental, Social and Governance (ESG) related issues when it comes to the brands they buy. Often they are willing to pay more for products that relate closely to their own personal values and beliefs. Mondelez believes this initiative reinforces the company's commitments to ESG, including more evidence about the origin of essential ingredients.
"Consumers are demanding more transparency about their food, and are keen to have access toinformation about where the food comes from and how it is grown," explained Jay Cooper, president of North America biscuits at Mondelez. "We're excited to test these capabilities with the Triscuit brand here in the USA and look forward to expanding our transparency efforts."
To provide traceability for a mega-offering like Triscuit is an expensive and challenging endeavor. However, it is an investment companies will need to make in future and Mondelez's announcement only serves to highlight its value for CPGs, says the report in fooddive.com.
The brand has the advantage that it has only three ingredients. Wheat is by far the largest of these, followed by canola oil and sea salt, so the traceability could hold more weight, since it's not overshadowed by other ingredients. It is the second largest cracker brand in the company's US portfolio, with retail sales for 2020 of $374 million, according to Nielsen data provided by Mondelez.
The traceability program was created in partnership with Connecting Food a blockchain technology provider founded in 2016 by agrifood experts to provide third party services for such operations. Based in France, the company's digital quality and audit module facilitates these functions. Information is accessed via a QR code on the packs, which are currently available in US retailers.
Mondelez recently piloted a very similar project in France using blockchain technology tracing the Harmony wheat it uses for LU brand biscuits and was able to use insights it collected for Triscuit. While the company does not have additional pilot programs planned, it does look forward to finding ways to apply these learnings across the business, it says.
Nearly half of North American consumers are likely to change their purchasing behavior based on the environmental attributes of the food, according to survey data from Nielsen. Addressing these issues is not only critical for consumer expectations but it is important for companies' bottom lines.
« News feed