Coca-Cola launches personalised Christmas cans and supports homeless charity in UK
| 17-12-2020 |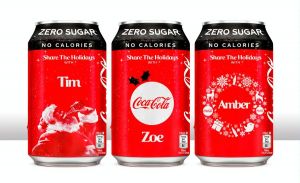 For the first time ever, Coca-Cola is giving fans the chance to create their own personalized Christmas can, featuring a name and festive image. A total of 1,000 cans a day will be available and, for every can ordered, a donation of £2 will be given to the UK national homelessness charity CRISIS.
From the 5th December, a thousand cans have been available to personalise and order every day for free. With the Christmas countdown well underway, Coca-Cola is offering people the chance to personalise special packs of Coca-Cola zero sugar with a name and a Christmas image, as the ultimate Christmas keepsake or as a special gift.
Customers can add this festive spirit by scanning a QR code on special Christmas packs of Coca-Cola original taste, zero sugar and Diet Coke and heading to https://cokecreation.co.uk/christmas/ Continuing Coca-Cola's longstanding support of Crisis, the UK's national homelessness charity, for every can that is personalised and ordered, Coca-Cola will donate £2 to the charity, donating a total of £50,000 this Christmas season.
Kris Robbens, marketing director at Coca-Cola Great Britain, said: "Christmas is all about sharing special moments with friends and loved ones and we hope people enjoy the opportunity to create their own, personalised festive Coca-Cola zero sugar can this Christmas, whether that be for themselves or as a gift.
"This year has been challenging for so many people and whilst Christmas is a moment of celebration, it's also incredibly important to remember those that need support more than ever before and this year, we're really pleased to continue our longstanding association with Crisis to support the charity with a donation on behalf of every can ordered."
Ian Richards, head of Crisis Christmas, said, "No one should be homeless and alone this Christmas. It's been a difficult year for us all, but thanks to the generosity of our supporters, we've been able to adapt our frontline services and be there for people without a safe and stable place to call home. We're extremely grateful to Coca-Cola for their ongoing support."
« News feed