CONGRESS 2019: Beefing up the Blockchain and Making RFID Retail Ready
| 18-10-2019 |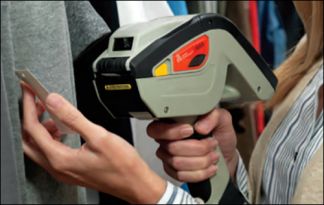 Avery Dennison rightly have a place in the vanguard of Intelligent Labelling and RFID deployments. During the Congress Jordi Baeta, one of the companies business development managers, will help delegates discover how one solution enables companies to verify a food item's journey across the entire supply chain, from source to final destination, and pinpoint any trouble spots along the way.
He will discuss different use cases including Avery Dennison's work with Beefchain, the first company to ever place cattle into a Blockchain, allowing consumers to track the steak on their plate all the way back to the ranch it was raised on. This gives ranchers greater control over the value of their sales by proving, via blockchain technology, that the beef they sell is what they claim to be.
The company's RFID division has released a portable RFID label-printing device that enables retailers and logistics providers to encode, print and apply an EPC UHF RFID tag to a product, cargo or asset. The Pathfinder 6059 was designed to make RFID tagging easier for those such as retailers and in logistics who might need to apply tags quickly on site, outside the manufacturing environment. The device is already available commercially and on test at 5 retailers around the world.
Some retailers have RFID tags coming from many suppliers but require tags for exceptional items, such as promotional or returned products. Additionally, some businesses receive goods from a variety of sources that are untagged, and they need a way to get the tags applied at a low cost. "As the use cases for RFID evolve and move forward, there have been some challenges. The is the first handheld device to scan a barcode, encode RFID, and print and apply an RFID label, all within less than five seconds," says Ryan Yost, general manager of Avery Dennison's Printer Solutions Division.
In a separate announcement Avery Dennison announced it has entered into a partnership with self-driving stores company Robomart. It will provide UHF RFID labels to be attached to each item of food stocked in the autonomous vehicle so that shoppers can simply hail the vehicle, remove a tagged item and be charged for the product removed. The solution is aimed at the retail market's need for faster inventory and supply chain management, keeping up with consumer expectations for quick, convenient access to goods.
SEE AT AIPIA WORLD CONGRESS AMSTERDAM NOV 18-19
« News feed