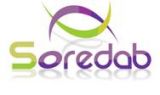 SOREDAB
Bongrain is focused on cheese and dairy specialties and is one of the world's foremost processors of milk. The Group is active on all continents and offers high added value products adapted to both the taste and habits of local consumers and the specifics of its markets.
The Group consists of companies of human scale, most often located at the heart of their milk producing areas, united by a strong humanistic, family and entrepreneurial culture.
It anchors its decisions in a long-term outlook, aiming for balanced performance and showing consideration for people and the environment.
Back to list
Visit website